Virtual Basketball Sims Betting 2023
Virtual basketball has traditionally encompassed all basketball simulator products, from interactive video games to eSports to AI-driven matchups where fans can watch games play out with no human interaction. However, in the sports betting world, virtual BBall has a specific meaning, and it's a distinct product offered by the top virtual gambling sites on the Internet.
But what is virtual basketball? We cover all that and more below, so don't hit the court without reading our brief guide. The most reputable sites have set the virtual sports betting bar 10 feet high, and the sky's the limit for this popular, growing market.
Best 2023 Sportsbooks for Virtual Basketball Betting
---
What Is Virtual Basketball?
Virtual basketball is a betting product that pits fictional teams – aesthetically based on their real-world counterparts – against one another in abbreviated matchups. These last only 2-3 minutes, allowing bettors just enough time to place their wagers before tipoff.
Virtual basketball is governed by random number generation (RNG) technology, and there is no human input at any stage of the game. Outcomes are predicated on the statistical model used by the sportsbooks in question, and teams – while similar to their NBA equivalents in jersey colors and geography – bear no resemblance to current rosters or power rankings.
It's a basketball virtual world out there (in there?), and we're just living in it!
Is It Legal To Bet On Virtual Basketball Online in 2023?
Before you open your virtual basketball playbook, you'll need to know if your real basketball sportsbook is legal to use. Well, there's good news on that front, as offshore betting sites are legal for the vast majority of Americans.
In fact, only two states – Washington and Connecticut – bar online gambling outright, and even they don't seem to enforce these laws. (We recommend adhering to all local mandates, but offshore sportsbooks will accept members from WA and CT, and there is no record of anyone from either state being fined or arrested for online betting.)
Federally, the Wire Act and the UIGEA don't apply to individual gamblers and have no bearing on your access to offshore sportsbooks, which means these very real laws are – ironically – virtually toothless, especially when it comes to simulated basketball betting at offshore venues.  
What Is Virtual Basketball Betting?
Virtual basketball betting is exactly what you think it is: betting on virtual hoops! But there's a major difference between BBall betting in the computer realm and wagering on sports like the NBA or NCAA basketball, as the digital variant has no lengthy historical team or player data to study in an effort to get an edge.
Because players and teams aren't based on real-world entities, you're left with limited information. Typically, the basketball betting software at the best gambling sites will compile data for the current "season," and you can use this information to make a semi-educated guess on which team is more likely to win, but the outcomes are more random than not.
That said, because the betting lines mirror real basketball odds, virtual sports betting is a great way to learn the intricacies of real professional basketball betting.
Essentially, you can look at this market like basketball-themed slot machines, and it can teach you the game in a quick, accessible way, similar to how virtual video poker can help you learn the ins and outs of actual tournament play. If you want a virtual basketball trainer to help you prepare for betting on the real thing, there is no better option anywhere!
How To Bet On Virtual Basketball
Simulated basketball betting lines mirror their real-world counterparts. You can get quarter lines, halftime lines, over/unders, spreads, and straights. The only bet type that isn't included are basketball props, and that's simply due to the fact that these games are over in a flash, and you wouldn't have time to browse a lengthy series of proposition bets in the first place.
The actual process of placing wagers is also the same as putting money on typical NBA basketball betting lines: You log into your sportsbook, navigate to the proper section, select the matchup that interests you, tap or click on the wager you wish to place, enter a dollar amount, and submit your ticket. Wins are credited to your account immediately, so you're always ready to parlay those payouts into your next wager.
Straight Bet:
A straight bet is like driving straight into the lane: Just pick a winner straight-up, and you'll get paid out per the moneyline if your team comes out on top.
Spread Bet:
The point spread in basketball betting works like this: The stronger team is handicapped and has to win by a given number of points for the wager to pay out, while the weaker team can lose by the same margin and still earn you the win.
Totals Bet:
Also called the over/under, your sportsbook assigns a figure that represents the total points scored between both teams. When the game's over, if the combined point total is higher than the book's number, the "over" bet wins, and if it's lower, the "under" bet wins.
Quarter Lines:
You can wager on which team will be winning by the conclusion of the simulated first quarter. These odds are not always offered for 3D virtual basketball games, but some books have them available.
Halftime Lines:
This type of bet is the same as a quarter line, but you're wagering on the team to be leading at the half. Again, many virtual sports betting sites won't offer halftime odds on simulated basketball contests, but you can find them occasionally.
Current Virtual Basketball Betting Odds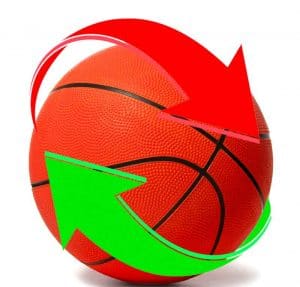 If you're looking for BBall betting today, whether the NBA or NCAA season is in or out, you can find tons of virtual basketball games online to wager on. However, due to the nature of the market, there's no way to for us – or anyone! – to keep up with the odds.
At sites like Bovada, their non-branded RNG "American Basketball League" has games every 2-3 minutes, with betting lines available before each contest. The sheer volume of betting on virtual sports is staggering, with entire seasons playing out in a single day. As an example, at the time of this writing, Bovada is on Season 18,593!
If you want the latest odds, you'll have to visit your site's Virtual Sports or Sports Sims section and see what's available, because the lines close every few minutes before new ones are posted. Forget about stopping the clock and riding out a game with 15 minutes of free throws – Virtual basketball is all action, all the time!
Due to the condensed, rapid-fire nature of virtual basketball sims, you can't get live betting lines on the games. Remember, these events last just 2-3 minutes, with betting re-opening for the next contest immediately afterward.
As this goes on all day, you'll get the same (or even more) betting volume that you would with live wagering on real basketball, but there's no time to place in-game bets here, and game outcomes are determined via random number generation immediately upon tipoff.    
Mobile betting is the primary way that gamblers wager on virtual sports, including basketball events. However, you won't find any iPhone basketball betting apps or Android betting apps in the App Store or Google Play, as no domestic book offers these kinds of odds (and offshore gambling sites aren't allowed in those storefronts to begin with).
However, the best sportsbooks listed here do have web apps that are designed to fit perfectly on any modern mobile device's display, replete with all the taps and swipes you'd expect from a native app. These web apps are convenient, require no downloads or updates, and use industry-leading encryption technology to ensure that your bets are your business. And business is booming!
Bank Shot - How To Fund Your Virtual Sports Betting Account
Because the best sportsbooks treat this sports niche – and all simulated sports – the same way they treat their regular sportsbook products, you fund your account in exactly the same way you're likely already used to.
For first-time ballers, the process is simple. Just follow the links to one of the most reputable sportsbooks listed here, sign up, and enter your real credentials. (Don't worry: All the sites we recommend use secure SSL and TLS encryption, and they never share or sell your private data to third parties.)
From there, you simply make a deposit, choose a bonus (or not), and hit up the virtual basketball league from the sports wagering menu. Some books may call this eNBA or Sports Sims, while others – like Bovada – call their market the "American Basketball League."
Most Popular Deposit Method
Most books offer a host of deposit options, but since you're wagering on virtual basketball, it makes sense to use a virtual currency to do so. To that end, we recommend using Bitcoin or another supported cryptocurrency (Litecoin, Ethereum, Ripple, Bitcoin Cash), as these have no added fees, come with high deposit and withdrawal limits, give you access to the best bonuses, and are the only way to get same-day payouts. Virtual basketball is just virtual basketball, but Bitcoin is the realest money in the word!
Other deposit options include:
Credit and Debit Cards:  Visa, MasterCard, Amex, Discover
Bank Wire Transfer
Cashier's Check
Zelle to Bitcoin
Virtual Basketball Vs. Basketball eSports
When it comes to wagering, you need to be aware of the differences between virtual basketball and eSports basketball. The former, as discussed, uses strict randomized RNG results and is based only loosely on existing teams, with no real-world data to frame its parameters.
eSports, on the other hand, use the wildly popular NBA 2K series of games by Take-Two Interactive (currently NBA 2K21), and the contests are played by real professional gamers. Thus, the odds will reflect not only the stats of the real NBA teams and players in question but also the skills of the human gamers themselves. NBA 2K League betting is available at all the top offshore gambling sites.
Virtual Basketball Vs. Basketball Sim Games
A basketball sim is like virtual basketball in that they both use computer-controlled software to determine random outcomes, but that's where the sim-ilarities end (ha!).
Unlike virtual hoops, simulation games use real commercial video game software like NBA 2K. The games are all played out in real-time, as well, so they last longer and give bettors plenty of opportunities to make in-game wagers.
Additionally, since the NBA 2K series and other titles use real branded teams and athletes, you can get an edge by researching actual established historical trends. LeBron James plays like LeBron James and not "LeBaron Jams," for example, so you can factor that into your wagers. If you've ever played a basketball GM simulator, this is kind of like that – but with betting! All the best legal offshore sportsbooks offer BBall sims in addition to the standard VBall market.
Virtual Basketball Vs. Virtual Reality Basketball
VR basketball is currently a video game platform only, with no real betting opportunities at this time. However, when the technology matures and VR headsets come down in price, more gamblers will be interested in wagering on virtual reality sports. You'll be able get court seats (not courtside – you'll actually be on the court itself!) and experience a full, free-moving virtual world.
VR basketball betting will likely be available across all three major markets mentioned, from virtual basketball to videogame sims to eSports. The future is a 360-degree Vince Carter dunk!
The Best Virtual Basketball Betting Strategy
When you wager on virtual basketball, you don't have real-life data to go off of, but that doesn't mean you can't get an edge. Most every strategy is going to be based around getting as much information as you can out of the current "season."
The top books each offer a scoreboard that compiles the wins and losses, points per game, and other salient details from every prior game in the current campaign. These apply only to the seasons in question, as the best basketball team in today's season may very well be the worst team in the virtual league tomorrow.
Other than that, there are really no virtual sports betting secrets. Just remember to give yourself a betting limit on each game and wager responsibly, because hoops simulations are meant – first and foremost – to be entertaining. You aren't going to become a millionaire betting on basketball sims, after all. So take it slow, work the clock, and take the open shot when you have it.
More Virtual Betting Options