Play Virtual Reality Poker In 2023
Know when to hold 'em and when to fold 'em but don't have a place to play poker regularly? Well, now you do, because online virtual poker rooms are available at the best virtual gambling sites.
But make no mistake, as these virtual venues are virtual in name only: When you sign up and belly up to an online poker table or tournament, you might be playing over the Internet, but the competition is real, and so is the money in every pot. This is real poker online, and the strategies involved are largely the same that you'd find in a Vegas poker room or at a California card room.
Of course, there are a few differences that we discuss below, but if you're looking for online poker for US players and don't live in one of the few states that offer the pastime domestically, offshore virtual casinos are open to all. To learn about the game, its intricacies, legalities, and where to go all in, our virtual poker review is 100% IRL!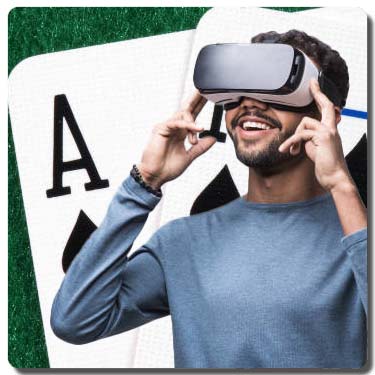 ---
Best Virtual Poker Sites For US Players 2023
---
What Is Virtual Poker?
Virtual poker isn't just a video game thing. In other words, we're not talking about any Sims 3 poker table or Sims 4 poker mod. No, virtual poker – or simulated poker – is real poker played online for real money against other players just like yourself. The best offshore gambling sites have realistic RNG (random number generation) based poker simulators that mimic every aspect of the game.
These online poker products, available exclusively at virtual gambling sites, allow you to play the world's most popular game any time you want, with real competition and big pots on the line. Virtual poker rooms offer cash tables, tournaments of all sizes, and tons of perks compared to the real game, with sheer convenience being the biggest trump card.
With poker sims at the sites we recommend, the rules of the game are what you know and love, and the most popular game types – Texas Hold 'Em, Omaha, and Omaha Hi-Lo – are always on hand, whatever your hand happens to be. For real poker experiences online, these sites are all Aces and no Eights. And you can take that to the bank!

Is Virtual Poker Legal in 2023?
Yes, you can enjoy legal online poker at any of the top-rated virtual gambling operators listed here. Virtual poker is also offered in a handful of states domestically, with simulated tables available in Delaware, New Jersey, Nevada, and Pennsylvania. Unfortunately, online gambling is geo-fenced in those states, so while you will find, say, Borgata poker online, you'll have to physically be inside NJ to play.
Unless you live in the above states, the only place to play real poker online is at an offshore gambling site over the Internet. There are no federal laws prohibiting American players from anteing up at offshore tables and playing real money online poker.
Two states – WA and CT – do have laws barring the pastime. Still, these are historically unenforced, and we've never heard of anyone being fined or arrested for participating. Nevertheless, if you live in either state, you must only sign up and play at your own risk.
How To Fund Your Online Simulated Poker Account
There are several ways to get money into your online poker account, and each site offers a few different options. Usually, you can deposit with credit or debit cards, money orders, wire transfers, person-to-person services (i.e. MoneyGram), and cashier's checks.
However, these all come with added fees and various deposit limits that may not be great for your needs, and payouts via bank wire or courier check can take up to a week to clear. As such, our recommended banking method for any virtual gambling site is Bitcoin (or any other supported cryptocurrency).
Bitcoin – The Royal Flush!
For our money, virtual money is the best way to get your account funded. Bitcoin and other cryptocurrencies (altcoins like Litecoin, Ethereum, Bitcoin Cash, Ripple, etc.) transfer nearly instantly, have no added fees of any kind, offer the best bonus perks, have high limits, and are the only ways to get same-day poker payouts. For virtual poker, virtual currency is the realest deal!
Online Poker Bonuses
When you sign up at most gaming sites and make your first deposit, you'll usually be offered some kind of matching bonus to boost your bankroll. Virtual poker is no exception, and most sites have big bonuses that can net you an extra $500-1000 to play with.
However, unlike the sportsbook and casino bonuses at these sites, poker promotions have no playthrough or rollover requirements. Instead, bonus poker cash is released in increments based on your pace of play. The more games your finish, the more poker points you earn, and as you get to each points threshold, a portion of your bonus will be credited to your account.
Virtual Poker Games Available Online
While poker has a wide variety of variants, the best offshore sites offer only the three most popular game types: Texas Hold 'Em (aka Hold 'Em or Holdem), Omaha, and Omaha Hi-Lo. These are explained briefly below:
Virtual Texas Hold 'Em:
Simulated Hold 'Em is the most popular online poker game, period. The rules are simple: Each player gets two cards (aka "hole cards"), and then five community cards are dealt (the "flop," the "turn," and the "river"). The goal is to make the best possible hand using any five cards available to you.
Virtual Omaha
Simulated Omaha is much like Texas Hold 'Em, but each player is dealt four pocket cards and must use exactly two of them – plus any three cards from the five-card community pool – to make the best hand.
Virtual Omaha Hi-Lo
Omaha Hi-Lo sims operate the same way as Omaha, with the same exact rules as outlined about. However, the difference with Hi/Lo is that both the highest hand and the lowest hand split the pot. The lowest hand in Omaha is usually 6-4-3-2-1, although some games use the "bicyle" (5-4-3-2-1) as the lowest hand (which is a straight in Holdem and a reasonably high hand in most poker variants).
Types Of Virtual Poker Online
In general, you will find three different categories of virtual poker play at offshore gambling sites. These are the following:
Cash Tables: At cash tables, simulated poker is at its quickest and most convenient. Here, you pick a table, toss in your ante, and play. The contests aren't tournament based, and depending on the number of opponents and the table limits, these matches can be over in just a few minutes.
The best virtual sites offer multi-table play (aka multitabling), where gamblers can play at several tables at once. This is the fastest way to play poker on the Internet, but we suggest using a desktop or laptop computer, as the bigger screen really helps when you're playing more than one hand at a time. Multitabling is not recommended for beginners.
Sit 'N' Gos: Sit 'N' Go events are small-scale tournaments, usually comprised of between 10-50 players spread across a few different tables. You simply buy in, get your virtual poker chips, and try to win your table. If you do, you move to the next table, and so on. At the final table, the winner claims the biggest prize.
Tournament Poker: Tournament poker is the real deal for seasoned players, and the matches can last hours or even days (although new tourneys start every few hours at the best poker sites). Here, you will play against hundreds or even thousands of players, winning each table on your way to the final. Win that, and you can get five- and even six-figure payouts!
Virtual Poker Games For Mobile Devices
If you're looking for a virtual poker app for real money, you won't find one on the App Store or in Google Play. Yes, there are plenty of poker apps on these marketplaces, but they're all based on buying chips through in-app purchases (IAPs) and then spending those to play. You can win more chips to play more hands, but you can't cash those chips out. In other words, iPhone poker apps and Android poker apps are for the birds, not the poker sharks!
Fortunately, the top-rated offshore virtual gaming sites we recommend all offer slick web apps designed to perfectly fit whatever mobile device you're using, replete with all the taps, swipes, sights, and sounds you'd expect from a native app. There's never anything to download or update, all the games are available over a secure SSL connection, and these poker rooms are never geo-fenced, so you can play from anywhere you are, whenever you want.
Tips And Tricks For Online Poker
If you're just getting started with online simulated poker, there are a few tips that any beginner can use to get better at the game in a hurry.
Learn the best poker hands. This goes without saying, of course, but we said it anyways. Virtual poker may be contested in cyberspace, but the traditional hand rankings always apply. These are as follows, from highest to lowest:

Royal Flush
Straight Flush
Four of a Kind
Full House
Flush
Straight
Three of a Kind
Two Pair
Pair
High Card

Use a poker chart. There are plenty of online poker charts that will show you the mathematical probabilities of every move you can make, taking the numbers out of your head and putting them right on your computer or mobile screen. At brick-and-mortar poker rooms, such resources are disallowed, but online, all you need is an extra browser window!
Start small. If you're a beginner, this is especially important, and online poker tables have all kinds of different buy-ins. As you build your skillset, stick to the cheapest tables. For veterans of in-person poker, this is also advised, as the online game does have one major difference, which you can read about in the very next tip...
Forget your poker face. Because you're playing online, even though it's against real people, the one traditional aspect of the game that is obviated by all this is the poker face and the big bluff. You can still bluff by betting, but any edge that poker pros get by analyzing opponents' expressions and body language is right out. For some players, that's understandably a negative with simulated poker, but it's the only sacrifice. Otherwise, the game is identical to the action at live tables.
---
Virtual Poker FAQs